---
---
We're honored you are considering an exceptional education at Knoxville Catholic!
---
---

Hello, 8th graders! Taking your official visit is a great way to experience life at Knox Catholic!
Spend the morning with us on Tuesday, November 7th and check out classes, sports, the arts, have lunch, tour the campus, chill with current students, meet awesome teachers and coaches, and just have a blast!
If you attend a Foundation school – no need to sign up! 8th graders from St. John Neumann, St. Joseph's, Sacred Heart, St. Mary's and ESK automatically attend Visit Day as a class.
Public school students interested in 8th Grade Visit Day can register below!
---
---
HIGH SCHOOL PLACEMENT TEST

All students applying for admission must take a placement test to determine admittance into Knoxville Catholic's academic program.
This year's placement test will be held Saturday, Dec. 2, 2023 at 8 a.m. (Parents – join us for coffee in the library at 8:30 a.m.) Pickup time is 11:45 a.m.

The alternate placement test will be Saturday, Jan. 20, 2024.

Pre-registration is required. Click the button below and use Knoxville Catholic's ACCESS CODE: ZN


Make the next 4 years, the BEST 4 years!
Dear Prospective Students and Families:

Catholic is a special place, one where bright and motivated students are both nurtured and challenged as they grow to become remarkable young adults. Our rigorous academic program equips students to forge new paths in college and beyond. Outside of the scholastic realm, we encourage students to participate fully in academic, athletic, artistic and faith formation opportunities and discover their God-given gifts and talents.
I hope you will experience Knoxville Catholic by scheduling a personal tour! You can also visit our academics and athletics pages to learn all about our outstanding programs and student life.
Be sure to follow @KnoxCatholic on Instagram, Facebook, YouTube, TikTok and Twitter! Our social media channels give you a true feel for life at Catholic!
I'm here to answer your questions from tuition to uniforms. We look forward to welcoming you to Knoxville Catholic High School. Go Irish!
In Christ,
Joni Punch
Vice President of Institutional Advancement
865-560-0502
[email protected]
IRISH FOR A DAY
Shadowing Program

Our 'Irish for a Day' program allows prospective students the chance to experience daily school life through a student's perspective. During this half-day visit, students attend morning classes, eat lunch, and have the opportunity to meet with the Admissions staff and coaches or teachers in their areas of interest. Shadow days are by appointment only and we ask that parents/guardians schedule at least two weeks in advance. To schedule your shadow day, please click the 'Sign Up Now' button below or contact Joni Punch at 865-560-0502.
---
---
---
---
---
---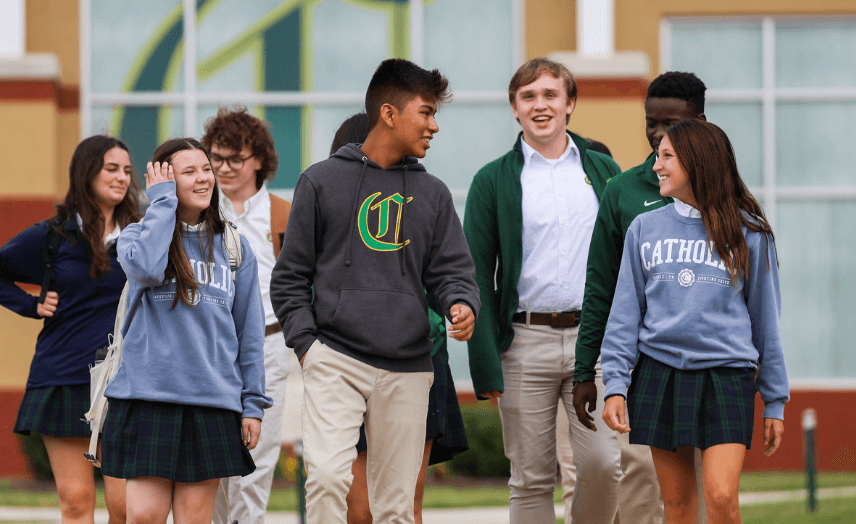 ---
There's no better way to get to know Knoxville Catholic than to visit our campus! For prospective families who are unable attend Open House, Catholic offers the opportunity to attend a campus tour during a school day. Campus tours typically last about an hour and are led by a member of the Admissions team.

We are blessed to have a beautiful 38-acre campus, so be sure to wear comfortable walking shoes! More details will be sent to you prior to your tour date.

---
---
OPEN HOUSE

You're invited to Admissions Open House on Sunday, February 4, 2024 at 2 p.m.

Doors open at 1:30 p.m. and the Open House begins with an Athletic, Arts and Club Fair at 2 p.m. with all of our varsity coaches in attendance for students interested in Irish Athletics. Our Theatre, Band, Digital Media, Fine Arts and Robotics leaders will be on hand for students interested in the Irish Arts programs.

Meet in the St. Gregory the Great Auditorium at 2:30 p.m. for a brief presentation followed by tours of campus led by the Irish Ambassadors.

Administrators will share the unique advantages of a Knoxville Catholic education and our Academic Departments will have teachers relate course content and curriculum.

No need to register! We look forward to meeting you and your family and we are here to answer all of your questions about the Knoxville Catholic experience! Go Irish!
---